In case you've been on hold over at the Affordable Care Act website for the last five days, the fate of a defending, two-time national championship team is on the line. A series of improbable events have put a dynasty in jeopardy. Its mascot, a rumbling, horned behemoth of a creature, hunted for millennia, looks to escape an extinction level event.
That's right.
The North Dakota State Bison are on the run.
The Bison are the current back-to-back NCAA Division I FCS National Champions, with a 39-2 record since 2011. Sound familiar? Their relative dominance makes Alabama's run look replicable by comparison. As a current member of the tier, formerly known as Division I-AA, the Bison have cooly beat Division I FBS schools, Kansas State and Minnesota, the last two seasons on the road. That would be like the Crimson Tide mixing in a couple wins over the AFC South in Houston and Jacksonville.
And, who, you might suppose, is the Bison's fearless hunter?
As it turns out . . . my Furman University Paladins.
A team with a rich football tradition itself, including a I-AA National Championship and more conference championships in the storied Southern Conference (whose historical members boast Alabama, Tennessee, Florida, LSU, Georgia, Georgia Tech, Clemson, and South Carolina among others) than any other member school, Furman has recently fallen on hard football times. But for a host of comparable improbabilities to rival that which has recently played out in the SEC, the Paladins (8-5) shouldn't have even sniffed the playoffs.
(Did I mention the inventor of the laser is a Furman alumn? You know. THE laser. Laser pointers. LASIK surgery. Light Sabers.)
My kids and I were there when they clinched as co-champions of the SoCon and secured the FCS playoff automatic bid.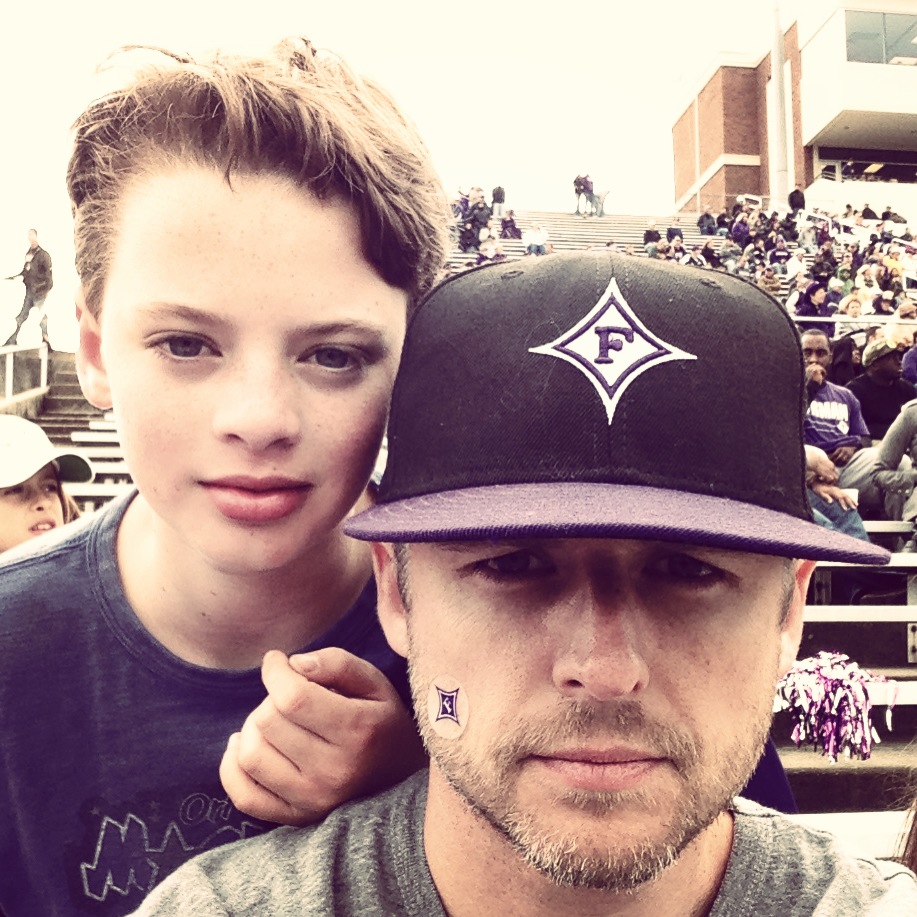 (Actually, to clinch the auto berth also required the Samford Bulldogs to beat the Elon Golden Phoenix in its final game of the season, thereby creating a three-way first place tie with the University of Tennessee at Chattanooga Mocs and Furman, which the Paladins would win by virtue of the applicable tie-break. I know. Have you ever read a college football sentence with fewer recognizable teams?)
The Paladins promptly beat in-state bretheren, South Carolina State Bulldogs out of the MEAC, last weekend, in the opening round of the playoffs. They now face North Dakota State in Fargo Saturday.
For those unfamiliar, a "playoff" is a single or multi-elimination game tournament format in which eligible teams compete, head-to-head, in an attempt to decide a single champion on the merits. Admittedly, it's a pretty bizarro way to crown a champion, I know, but that's all the FCS has for now.
Anyway, you think the odds of Duke beating Florida State and Michigan State beating Ohio State, to keep Alabama's national championship prospects alive, are long?
Furman was a 31-point dog at one point.
There were shorter odds on the Christmas Raccoons in their conservationist-minded grudge match against Cyril Sneer's Hockey Bears to preserve Evergreen Lake.
Which is pretty appropriate, as my crusading Paladins prepare to take on the bigger, uglier, and generally more malodorous team from the icey North where hockey matters a whole lot more than football . (As an aside, if your school is one of the top two flagship public colleges of your state, get the what out of the FCS. That would be like the Texans playing in the SEC and thinking they had done something. You too Montana and Montana Jr.)
And, by "bigger" and "uglier," I mean "1/8 viking."
North Dakota State designed it's punt rush after a Capital One Card commercial.
They forge their own helmets.
The quarterback's wristband cheat sheet is written in rune.
The Fargodome doubles as a smokehouse in the offseason.
"The pigskin" is not euphemistic in North Dakota.
So, to the point — Alabama's remaining shred of hope. As a disclaimer, my dad's family is from Alabama and he attended for like 6 semesters before eventually graduating, ironically enough, from the aforementioned Samford where he met my mother. As a result, I pulled for Alabama my entire childhood including through the time of this National Championship and historic play:
But, in my adult life I became a Paladin, first, and, shortly thereafter, a Gamecock, during my time at USC School of Law, which happened to correspond with the Lou Holtz era. And, as USC plays in the SEC, that was pretty much the end of my Alabama loyalties.
Sooooooooo, it's been a long, long time since I felt any real allegiance to the Tide. But, in the recesses of my nostalgia lingers some little wish that they succeed, so long as their success doesn't otherwise interfere with my real teams (which in the case of Furman and the University of South Carolina is essentially never).
In addition to these dormant childhood loyalties, Alabama's dynastic run has implicated an important aspect of my heirarchy of fandom that historic streaks and accomplishments not be disrupted. And, so I root for a third national championship, and fourth in five years, just like I did with the USC Trojans, because it's essentially impossible to do and our society's infatuation with empire destroying is pretty petty.
Taken together, all of this amounted to some investment in the outcome of last Saturday's Iron Bowl that Alabama prevail. And, again, in case you're still buffering through the Obamacare Insurance Exchange, they didn't.
Speaking of improbable plays, isn't it time that a creative playbook, built exclusively around the hook-and-ladder, be designed? It's considered such a high-risk play, relegated only to hail-marry situations, because of the lateral involved. But, what makes an orchestrated, discretionary open-field lateral any more risky than the triple option? You practice the play just like other offensive schemes so that it's familiar. The receivers have discretion to not make any lateral that's dubious. What am I missing? You could have all these mid-field variations of wideouts crossing underneath each other creating a sort of secondary option effect. Someone's going to do this and I'm going to get no credit. Quick. Give me a team to coach.
So, now finally to the point. I wanted Alabama to three peat. They aren't going to, barring something as nearly as improbable as Furman beating the Bison. So what am I pulling for? There is still a streak on the line and one hardly anyone has mentioned, although Forbes led with it here.
The State of Alabama streak. It's won the last FOUR National Championships. Forget SEC dominance. Or the South's dominance. Arguably one of the poorest, most marginalized states in our union owns college football. And, but for it having cannibalized itself on rivalry weekend, would be particularly poised to make it five.
But, the feat is still very much alive. Whereas both FSU and Ohio State must lose for Alabama to have any shot, only one has to lose for the State of Alabama, in its other son, Auburn, to keep the streak going.
Sweet home, indeed.
Oh. I almost forgot.
To the visigoths who await us in Fargo, in the indelicate words of Furman's late President, John E. Johns, "F.U. one time! F.U. two times! F.U. three times! . . .
F.U. all the time!"
Performed by theipoetlaureate. Music produced by Fab da Eclectic.
Today's blong here: