I have three things to say about Alex Rodriguez.
1. He did this to himself. He isn't very cool. He's too rehearsed. He probably shouldn't have chased big money contracts to Texas and then New York. He shouldn't allow celebrity actresses to feed him popcorn from a bag, Constantine or, rather, middle school, style. He shouldn't have done this. He shouldn't have taken PEDs. He shouldn't have lied about it. He shouldn't have taken PEDs, again. He shouldn't keep lying about it. He has no one to blame but himself.
2. Alex Rodriguez was my favorite player. Only a few months younger than me, I followed every rumor about him as I played out my own modest baseball career. That he hit over .700 in high school. That he was a tall, rangy shortstop, a mutant combination of Barry Larkin and Cal Ripken, Jr. It really doesn't seem that long ago that I was still identifying him as the kind of athlete I would want my kids to be like. Polite. Diplomatic. Great. And, you will never hear me call A-Rod a fraud. God made him one of the best baseball players that ever lived. He's probably the only PEDs abuser who was actually worse for having taken them. A-Rod was lithe not hulking. He hit to all fields not just with power. He was a shortstop. Not a third baseman. Where PEDs gave us a sort of exaggerated version of every other offender, in A-Rod's abuse, I truly believe we got something less.
3. We will look back on this time with some embarrassment. I've said it before. We cannot expect to live in a world with clean sports. It's not going to happen. Within 100 or 200 or 500 years our entire society will participate in genetic modification of some kind. Sports will not be immune from this phenomenon. The demonization of our athletes from this time period will be remembered as petty. You won't be around to see it. But, it will. Now, that's not to say that the athletes of this generation weren't wrong to cheat and break the law. But, our sanctimony about it will eventually look small. Guaranteed.
I'm on vacation this week and may not be able to record anything new.
But, in light of the breaking news regarding A-Rod's 211 game suspension for steroids, I thought it was fitting to reprise my lament for our "National Pastime's" general decline.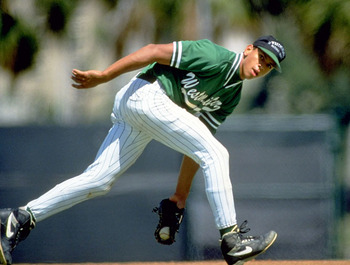 Performed by theipoetlaureate. Music produced by djclutch.
Today's retread blong here:
(Not) Good Times